EdgeKit - A modular Edge AI Computer based on NVIDIA Jetson
EdgeKit is a highly modular edge AI computer based on the SOMs of NVIDIA Jetson product family. It powers AI software solutions with a hardware platform that perfectly fits every use-case without long engineering lead times and high costs.
Supports many SOMs from the NVIDIA® Jetson product family (Nano, TX2 NX, Xavier NX, Orin Nano and Orin NX)
Compatible with USB, Ethernet or CSI cameras for real time machine vision tasks
Select more than 30 different options for the best use-case fit using an interactive web configurator
IMPORTANT: EDGEKIT IS FOR COMMERCIAL CUSTOMERS ONLY!
Interfaces
Interface
Optional
Specifications
NVIDIA® Jetson connector
no
260-pin SO-DIMM, supported SOMs are listed here
Micro USB
no
USB 2.0, 1 micro type-B slot, OTG not supported
Micro SD card slot
no
Not compatible with Orin SOMs
USB
no
USB 3.0 (Nano and TX2 NX), USB 3.1 (Xavier NX and Orin NX), shared, 2 or 4 slots (optional)
Ethernet
no
RJ45 connector, 1 Gbps, 1 or 2 slots (optional)
HDMI
no
HDMI 2.0, supports resolutions up to 3840x2160 (4K)
CSI
no
2-lanes, 2 or 4 slots (optional), Xavier NX supports up to 6 slots (optional)
GPIO
no
40-pin header including 1x UART, 2x I2C, 1x I2S and 2x SPI
Debug header
no
UART on baseboard, 3.3 V, Force Reset pin
SATA
yes
Not compatible with 4x USB 3.1
SSD
yes
M.2 M-Key socket, optional built-in SSD with 128 - 1024 GB storage size
WiFi
yes
M.2 E-Key socket, built-in module, antenna included
GPS
yes
M.2 B-Key socket, built-in module (U-blox NEO M8 series GPS module), antenna included
LTE
yes
mini PCI-Express socket, built-in module, antenna included
CAN
yes
M12 connector, isolated, software switchable termination
Relay
yes
2x 3-pin, plugable screw terminal, SPDT output, max. 50 VDC, max. 1 A
Opto-isolated IO
yes
4x optoMOS output, max. 24 V
4x input, max. 24 V
Serial
yes
D-SUB connector, software selectable RS232/422/485, software switchable termination, max. 20 Mbps
Supported NVIDIA® Jetson Boards
Jetson Nano
Jetson TX2 NX
Jetson Xavier NX
Jetson Orin Nano
Jetson Orin NX
AI Performance
472 GFLOPS
1.33 TFLOPS
21 TOPS
20/40 TOPS
70/100 TOPS
GPU
128-core NVIDIA Maxwell™ GPU
256-core NVIDIA Pascal™ GPU
384-core NVIDIA Volta™ GPU with 48 Tensor Cores
1024-core NVIDIA Ampere GPU with 32 Tensor Cores
1024-core NVIDIA Ampere GPU with 32 Tensor Cores
CPU
Quad-core ARM® Cortex®-A57 MPCore processor
Dual-core Denver 2 64-bit CPU and quad-core ARM® Cortex®-A57 MPCore processor
6-core NVIDIA Carmel ARM® v8.2 64-bit CPU
6-core ARM® Cortex® A78AE v8.2 64-bit CPU
6-core / 8-core Arm® Cortex® A78AE v8.2 64-bit CPU 1,5 MB / 2MB L2 + 4 MB L3
RAM
4GB 64-bit LPDDR4
4GB 128-bit LPDDR4
8GB 128-bit LPDDR4x
16GB 128-bit LPDDR4x
4 GB 64-bit LPDDR5 / 8 GB 128-bit LPDDR5
8 GB 128-bit LPDDR5 / 16 GB 128-bit LPDDR5
Storage
16GB eMMC 5.1
Supports external NVMe
Power consumption
5W | 10W
7.5W | 15W
10 - 20W
5W - 10W | 7W - 15W
10W - 20W | 10W - 25W
Technical specifications
Voltage
12, 24, 48 VDC
Power consumption
max. 60 W
Ambient temperature
0 °C to 50 °C
Humidity
Not condensing
Cooling
max. 15 W passive cooling
optional air cooling with 2x 60 mm fans
Weight
1 kg
Housing
Black eloxated aluminum
Installation
optional, DIN-Rail or Wall mount
Mechanical specifications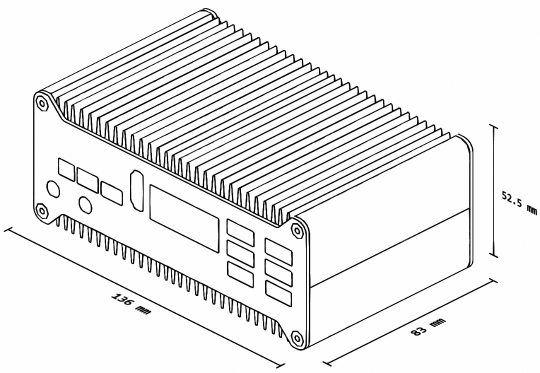 Low-profile variant (without extension boards)
Width: 136.0 mm
Height: 52.5 mm
Depth: 83.0 mm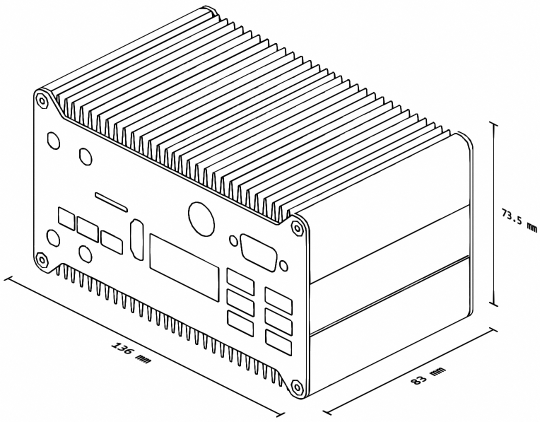 Extended variant (with industrial or media extension board)
Width: 136.0 mm
Height: 73.5 mm
Depth: 83.0 mm
Scope of delivery
EdgeKit with latest version of NVIDIA® JetPack SDK pre-installed
Print version of quick guide and CE declaration of conformity
Antennas for GPS, LTE or WiFi interfaces (if present)
Connector for 2-pin terminal (if present)
Connector for opto-isolated IO (if present)
Connector for relay (if present)
Downloads
PDF: CE declaration of conformity (radio equipment directive) PDF: CE declaration of conformity (EMC directive) PDF: CE declaration of conformity (simplified) + Quick Guide PDF: User manual Link: GitHub repository