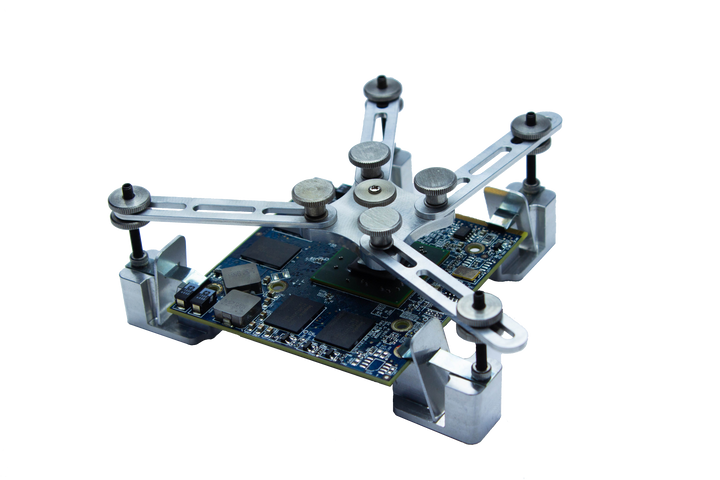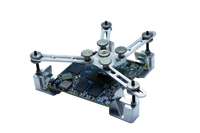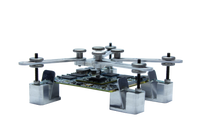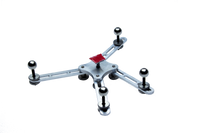 Desoldering system for vapor phase
$550.00
(excluding VAT)
$654.50
(including 19% VAT. May differ in your country. Taxes are calculated at checkout)
Shipping within 3 weeks. Rates calculated at checkout.
Desoldering system designed by PCB Arts
English
General
With the PCB Arts desoldering system for vapor phases you can easily and reproducibly save different components from your already soldered assembly. Ball-grid arrays, connector strips and mechanical elements can be can be desoldered gently and safely.
Advantages 
Reproducible desoldering
Oxidation free process during solder-melting 
No overheating of components or the assembly 
No damaging of the assembly 
Works with all vapor phase machines 
No need of different tools for different component geometries
Uniform stress-free heating of the assembly
Process
Place your assembled circuit board on the PCB solder standoffs. 
Adjust the desoldering system and position it over the center of your component. 
After the correct positioning, remove the desoldering system and stick double-sided tape on the component lifter. 
Put the desoldering system on your assembly again and press down the component lifter on top of the chip. 
Run your standard reflow program, after the solder starts melting the component will gently be desoldered. 
After desoldering, remove the component from the lever (caution: hot), the system is ready for the next cycle.
Scope of delivery

The desoldering system will be delivered in a case, with the following contents:

1x Desoldering system
4x PCB solder standoff 
4x Brass ball as optional feet
10x 100x25mm Double-sided tape (Mfk. No. 3M GPH-060GF) 
---
German
Allgemein
Mit der PCB Arts Entlötanlage für Dampfphasen können Sie einfach und reproduzierbar verschiedene Bauteile aus Ihrer bereits gelöteten Baugruppe retten. Ball-Grid-Arrays, Steckerleisten und mechanische Elemente können schonend und sicher entlötet werden.
Vorteile
Reproduzierbares Entlöten
Oxidationsfreier Prozess beim Aufschmelzen des Lotes
Keine Überhitzung von Bauteilen oder der Baugruppe
Keine Beschädigung der Baugruppe
Funktioniert mit allen Dampfphasenmaschinen
Kein Bedarf an unterschiedlichen Werkzeugen für unterschiedliche Bauteilgeometrien
Gleichmäßige, spannungsfreie Erwärmung der Baugruppe
Prozessablauf
Setzen Sie Ihre bestückte Leiterplatte auf die PCB-Lötstifte.
Justieren Sie das Entlötsystem und positionieren Sie es über der Mitte Ihres Bauteils.
Nach der korrekten Positionierung entfernen Sie das Entlötsystem und kleben doppelseitiges Klebeband auf den Bauteilheber am Entlötsystem.
Setzen Sie das Entlötsystem wieder auf Ihre Baugruppe und drücken Sie den Bauteilheber auf die Komponente.
Führen Sie Ihr Standard-Reflow-Programm aus. Sobald das Lot zu schmelzen beginnt, wird das Bauteil sanft entlötet.
Nach dem Entlöten nehmen Sie das Bauteil aus dem Hebel (Vorsicht: heiß), das System ist bereit für den nächsten Zyklus.
Lieferumfang
Das Entlötsystem wird in einem Koffer mit folgendem Inhalt geliefert:
1x Entlötanlage
4x PCB-Lötabstandshalter
4x Messingkugel als optionale Füße
10x 100x25mm doppelseitiges Klebeband (Mfk. Nr. 3M GPH-060GF)